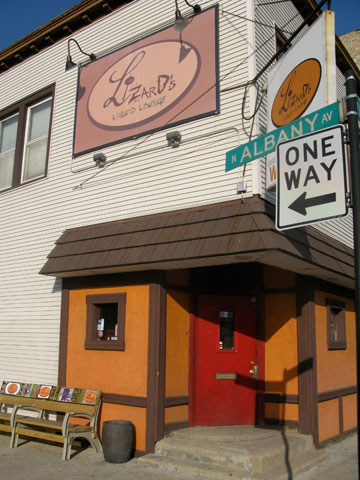 Lizard's Liquid Lounge is located at 3058 W. Irving Park Rd. (formerly the Lost and Found, Chicago's oldest lesbian bar). When original owner Ava Allen decided it was time to hang up the bar-towel, Liz took one look at the antique mahogany and leaded glass bar stretching the length of the room and said, "This is the place!".
A fresh coat of paint, artwork by Tomek, and other local artists, cozy tables, a pool table and internet juke await you at Lizard's Liquid Lounge. Other amenities include three widescreen televisions, all the sports channels you could wish for and free WIFI. Lizard's features daily drink specials and hosts regular events like book swaps, scrabble tournaments and more.
Lizard's logo design (as well as many of the posters and promos for events) are created by the extraordinary, talented and charming Michele "Shelley" Mach of Mach Art, INC.
Show your lizard-love with T-shirts, baseball caps and beer cozy's – now available for purchase at the bar.